Scott's 2017 Lesson Rates
at
Nonesuch River Golf Club
Scarborough, Maine
To schedule a lesson

call Scott Mayer directly at
207-838-5731

Single Student


60 minute lesson

$95

Single Student


30 minute lesson

$50

2 or 3 Students


60 minute lesson

$110

4 or 5 Students


60 minute lesson

$130

SERIES DISCOUNTS

Single Series


4 - 30 minute lessons

4 - 60 minute lessons

8 - 30 minute lessons

8 - 60 minute lessons

$175

$350

$350

$675

2 or 3 Students Series


4 - 1 hour lessons

8 - 1 hour lessons

$400

$750

4 or 5 Students Series

Seasonal Coach 20 weeks

4 - 1 hour lessons

8 - 1 hour lessons

1 - hour lesson/week

$450

$850

$1,750
Chipping, Pitching & Sand DVD
Start saving strokes today or your money back.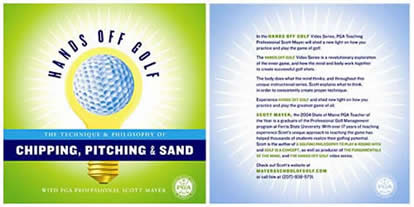 click here for a closer view of the back cover
(plus shipping and handling)
Secure online credit card processing with pay pal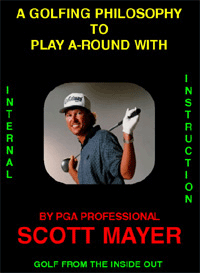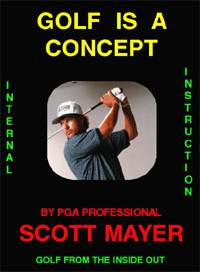 39 pages 46 pages
Order Both E-Books for only $8
Secure online credit card purchasing
(Books will be sent via email upon review of successfully transaction)
Awards
Maine Chapter PGA
Teacher of the Year
2016, 2015, 2009 & 2004
Golf Digest #1 PGA
Golf Instructor in the
State of Maine
2013-2014
Maine PGA Teacher of the Year New England Golf Monthly
2013
Ferris State University
Professional Golf Management
Bill Strausbaugh Winner
2004
"With Scott Mayer's Hands Off Golf approach to chipping, pitching and sand play, you will learn many valuable techniques for increasing your up and down percentages and lowering your scores."
- Brian Diamond, PGA
"Scott's knowledge and passion for helping his students improve is captivating."
- Mark J McInnis, IBM, Inc.
Golf Links: